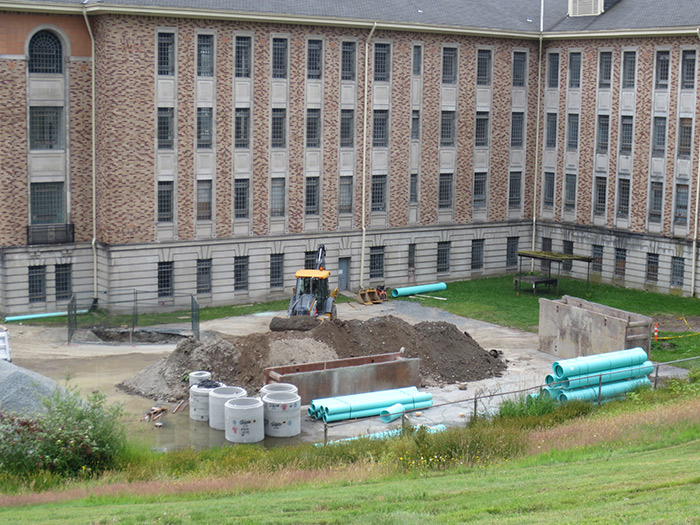 Engineering updates to Riverview's South End
Image description: Crews rehabilitated clay sanitary lines on the north end of the Crease building using Cured-in-Place Piping and replaced storm drainage lines with PVC pipes.
People who live, work or otherwise visit us on site will be familiar with the range of historic buildings across the Riverview Lands – some built as early as 1913. The fact that the buildings in the south end of site are served by equally old infrastructure is a topic that gets less airtime in a public setting. Our Operations and Land Development teams, however, spend much of their time working on these systems and roadways, making sure that those who use the site can continue to do so safely and conveniently in the years to come. This is part of a larger suite of upgrades called the Underground Utilities Rehabilitation Program. It is a critical first step in working toward the future of the Riverview Lands.
Replaced and updated piping
Over the past three months, one such project has been to update or replace existing utilities systems (sanitary and stormwater pipes) serving Crease, Leeside, Brookside, Pine Terrace/Sorrel Street, Fernwood Lodge, Holly Drive and the Fern Terrace cottages. In 2018/2019, an underground camera survey identified areas within our utilities systems that were nearing end-of-life. Some of this piping could be repaired using Cured-in-Place Piping (CIPP), where a fibreglass lining is inserted into an old pipe and cured using steam, air pressure or UV light. This effectively creates a new pipe within the old one and minimizes disturbances to both the surrounding ground and trees. In some areas, pipes were in such poor condition that they were replaced entirely – after all, many of these pipe systems were built between 1910 and 1950. Engineers and work crews completed all ground and soil disturbing works with oversight from archeologists, in accordance with our Archeological Protocol. We also consulted with Riverview's arborist, Dr. Julian Dunster, in situations where the work was completed near trees.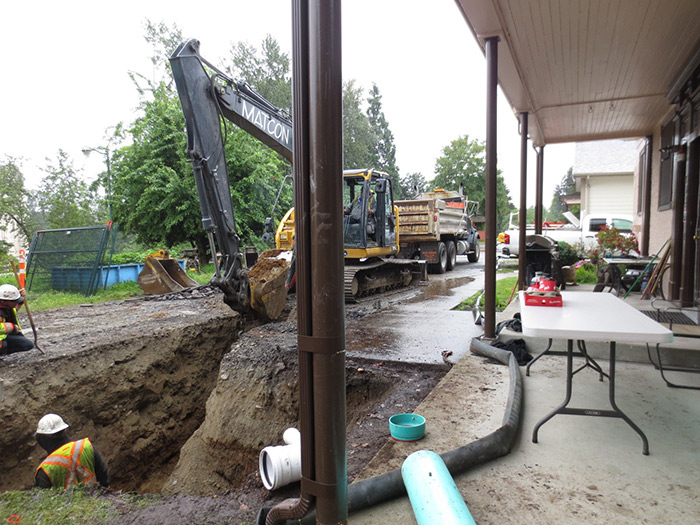 Image description: BC Housing installs 8" PVC piping on Crabtree Land behind the Holly Drive cottages.
Fire hydrant assemblies
Work crews also replaced fire hydrant systems near the Crease, Boiler House and Unit 5 buildings. As the summer dry season reaches its peak, it's important to be confident that our hydrants are at their best. This involved replacing the fire hydrant assemblies, including its leads and main line valves. It also involved installing a new concrete thrust block, which ensures that the main will remain stable when pressure is applied.
Road work
Finally, we repaved eight high traffic locations on site which are in frequent use by our tenants: Brookside building, Lawn Drive and Holly Drive, Crabtree Lane, Crease Kitchen on Sundew Lane, Boxwood Drive, Clover Street and the Industrial Services building. Traffic Flaggers maintained a single lane for traffic and were on site to direct drivers, cyclists and pedestrians.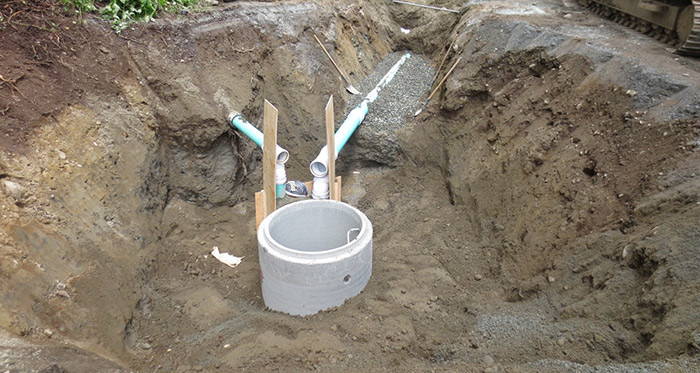 Image description: BC Housing replaced a sanitary manhole and piping in the gravel parking area across from the Fernwood building.
Thanks for supporting our engineers and work crews over the past three months by adhering to speed limits/changes in traffic patterns, and by avoiding areas that are fenced off for construction.
The Red Fish Healing Centre building project will continue to be under construction on the north side of Riverview near the Orchid Drive and Campion Way area until the summer of 2021. We don't anticipate any additional major construction on the south end for the remainder of the summer.
Please direct any questions about this work to [email protected].