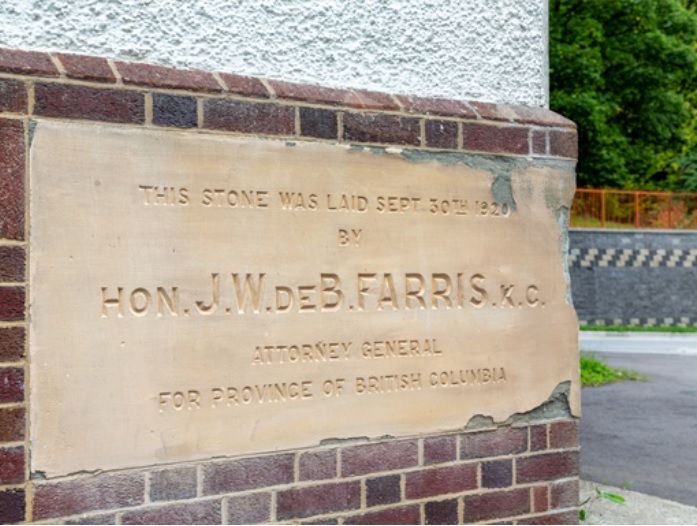 Valleyview Lodge building to be demolished in January 2022
BC Housing and kʷikʷəƛ̓əm First Nation are committed to the safety and wellbeing of the people who spend time at səmiq̓ʷəʔelə/Riverview. Valleyview Lodge (also known as the BISCO Administration Building), located between Holly Drive and Iris Crescent near Palm Terrace, will be deconstructed early this year to address health and safety risks associated with the building's structural condition.
Valleyview Lodge is one of four Tudor-style cottages on the Lands. It was inspired by the British Arts and Crafts movement and was constructed in 1922 for the Boys Industrial School of Coquitlam (BISCO) program. The BISCO program was later relocated to Vancouver Island and renamed the Brannen Lake Industrial School for Boys. The program is no longer operating. The buildings on səmiq̓ʷəʔelə/Riverview that were once used for the BISCO program were later converted for use by the Valleyview Hospital as the Home for the Aged.
The Valleyview Lodge building has not been occupied since 1986. It contains hazardous materials and has been deemed unsafe for entry, with structural assessments showing that debris may fall from the building, or it may collapse outright. Demolition is necessary to protect public safety – the building sits near bus stops, walkways, roads and the entrance to the Healing Spirit House building. Deconstruction work will include hazardous materials removal and environmental/archaeological monitoring. 
If possible, the building corner stone will be salvaged and stored for future inclusion in redevelopment work.
The Comprehensive Community Planning process for səmiq̓ʷəʔelə/Riverview, which is currently underway in partnership with kʷikʷəƛ̓əm First Nation, will include a heritage management strategy. This strategy will address the heritage-era buildings on site as well as heritage since time immemorial. The serious health and safety risks presented by Valleyview Lodge necessitated a proactive approach.
Concluding the deconstruction, the area will be cleared and graded until a decision is made as to the future designation.
This work is expected to take place in mid-January for approximately one month.